Soup & Networking, could it catch on?
20 April 2016
If networking events aren't really top of your to-do list then I might just have something for you, read on..
Networking has never really been my strong suit, so being rather introverted ( don't raise your eyebrows it's true ) I usually arrive at a typical event in a varying state of nerves not knowing whether I'll 'know' anyone that I can latch on-to and pass the time or whether I'll have to make polite small talk to someone I've just met and know nothing about. Sometimes it can be excruciating to the point where I just turn around and don't go.
That's what nearly happened last week.
Helen & Steve are away on their holidays in sunny Cyprus so I've been holding the fort so to speak. Suddenly we were invited to join 3 other businesses to pitch to a group of our peers in a networking event organised by Plymouth University and the Cornwall Chamber entitled the SOUP event.
I prepared as best I could not knowing timings or, indeed, the best way of getting across what we are trying to achieve with ADi and all was going well until it was time to go to the event at Truro school.
I left early for a caffeine hit in Tesco and as I returned to the car I had a mild panic attack. As I drove up to the roundabout, left for home, right for the event I felt the car drifting to the left, 'What do I need to go to this for? No loss if I jib out', I told myself, before the car finally bore right and brought me to my senses.
Of course, what would have happened if I'd turned left and made some excuse? Not much I suppose except the loss of a superb chance to talk to a group of people who were paying to hear what I had to say. That's all!
And just like that my nerves disappeared.
After the event I confessed this episode to my wife and do you know what she said? She said it's because what we are doing means so much that I didn't want to let anyone down and thinking about it she's absolutely right.
When I was lucky enough to be working on the Outset Cornwall program this was a core tenet of what we tried to teach, that you must really want to do what you plan if there is to be any real chance of success as there is a better than even chance that you will fail at an early hurdle.
Before meeting Helen & Steve I had absolutely no idea what it must be like to live with a disability and, to be honest, I wasn't really that bothered to find out. But over the months we've been designing, building and testing the RoomMate I have come to realise that I am not alone and that too many people and organisations would rather just tick a box than actually do, what in most cases is very little, something that can actually change someone's life.
So I entered the Heseltine gallery and the first face I spotted I knew! Terry Drake, a powerhouse of a man always on the go and someone who's company I do enjoy and who I first met as a client with Outset. Turns out he was one of the other 3 presenters, uhoh, and then to compound matters my wife's good friend Lucci Isaacson trucks up and announces that she's another speaker!
Now I'm not going to lie, the thought of going up against these two, I confess I did not know the 3rd pitcher, filled me with mixed emotions. Of course I wanted to win, but Terry with his pump filter and Lucy with Climate Vision, these were people I knew and not 2 people I would lightly offer my commiserations to when I accepted the cheque.
As more people filtered in and the place filled up I realised that this event was going to be different. For starters, I only knew 5 people in the whole room and that had never happened before, you can usually bank on there being at least a number of habitual net-workers but not today, and things began to look interesting.
Fortunately, I was tagged as presenting last so I spent much of the time arguing with myself as to the best approach, do I blind them with figures? (excuse the pun) Or try and tug on their heartstrings? Go for the sympathy vote? Or play the Equality card?
In the end I just did what I normally do when faced with an audience, I went with my gut. I showed them one of Steve's canes and asked how, with the other hand covering my eyes, I was meant to find the hand basin without help. I talked about how people 'get it' really quickly once they realise the problem and then how many of them get really excited and want to start helping us. It was a very short 4 minutes but I think I did The RoomMate justice.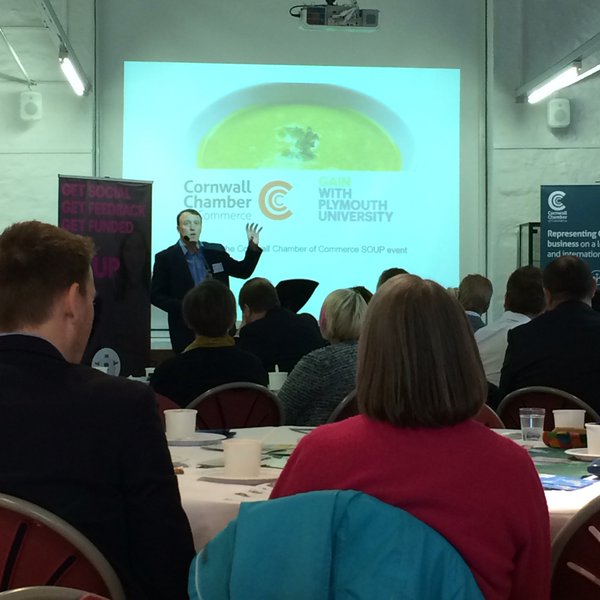 Once the last speaker is done, the audience is then asked to vote for their winner by placing their soup spoon in the bag of who they voted for and to my considerable relief we won. We won the proceeds of the day plus £250 from Plymouth University AND some valuable business support to boot.
So the RoomMate triumphed and now another group of people have had their perceptions of what it's like to live with a disability changed forever.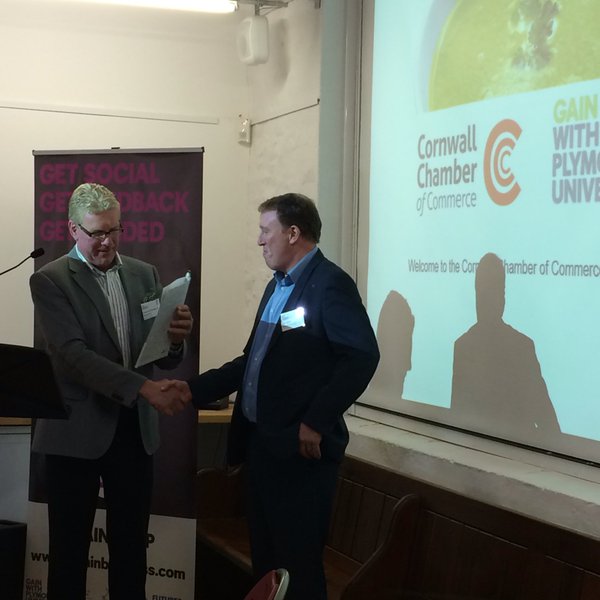 I spoke to many people after that, not just because I won, but because the atmosphere was different and everyone was interested in everyone else which I hadn't really noticed at other events before.
I realised that far from being a chore, networking events should be a high priority if you want to be taken seriously and can offer incredible validation of what you're doing.
Am I still wary of network events? Well just a tiny bit, but I think my ghost has been laid to rest..
SOUP events are relatively new to the UK and details for the next one hosted by Plymouth University are here