Sight Village Roadshow comes to Sandy Park, home of Exeter Chiefs
18 April 2018
The Queen Alexandra College organises exhibitions that showcase technology and currently run both the Sight Village & Autism Central.
We travelled up to Sandy Park, home of the Exeter Chiefs to spread the news about RoomMate, meet some new and some familiar faces and see what else is going on in the tech world.

If you haven't yet been to the Sight Village then we absolutely recommend you put the next one in your diary.
To explain a little bit more I have copied the following from the QAC's site:
"QAC Sight Village has been described as "The UK's Leading exhibition for blind and partially sighted people and for those experiencing sight problems" Each year thousands of people visit our events to find out at first hand the latest technology, products and support services available to people who are blind or partially sighted. Our exhibitors include charities, commercial companies and voluntary organisations from across the UK, Europe and the world. In addition to the main show in Central England, we host a number of roadshow events in cities such as London, Leeds, Manchester, Exeter, Glasgow and Edinburgh. Admission is FREE to all our events."
Find out more at Queen Alexandra College
Sandy Park is a very modern looking stadium and the facilities are rather good.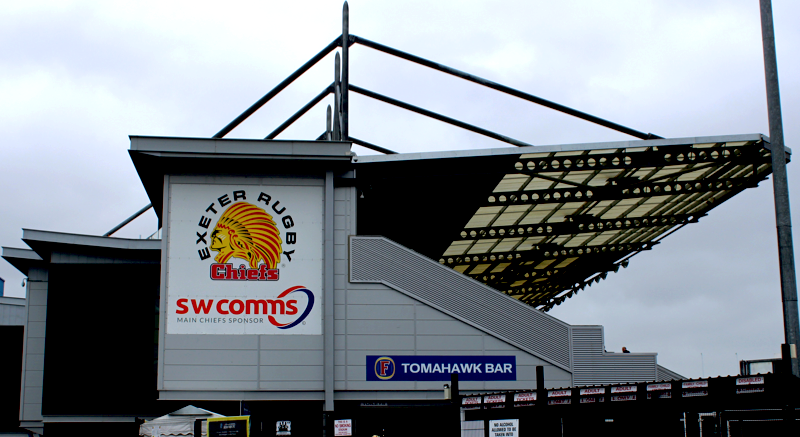 We've been here a number of times for conferences and exhibitions, this the second time for ADi Access, and the organisation & professionalism of the staff has always been excellent.
The day was held in the Exeter suite which was plenty big enough for all of the 4 rows of exhibitors and hundreds of VI visitors and their carers and companions.


The scope of available technology at the event was mind boggling and we had a great time talking to everyone who stopped to hear the RoomMate in action.
It's always good to see and hear what people are up to and we also had some excellent conversations with a number of our fellow exhibitors.
Related article: Our latest newsletter, catch up on the news as we make it

Our decision to attend the event was made primarily to engage with potential future users of RoomMate from further afield than Cornwall who, possibly, were experiencing what it can do for the first time, we weren't disappointed.

One topic in our conversation was a request to each individual for a venue near them that they thought would benefit from having Roommate and we soon had pages of ideas.
All we have to do now is pick out the winner who we plan to donate a RoomMate to, we'll let you know how we get on!
As always, wherever we go we can't help ourselves when it comes to checking out the Loos ( in fact it's becoming quite worrying - Spencer ) and Sandy Park, as host to the Roadshow wasn't going to get out of it.

The loos near the main stairs in the centre of the hospitality suites are quite odd in so far that the Accessible toilets have been built in as a larger cublicle within the main toilets themselves.
Now I've not actually seen toilets designed like this before so I have forgiven myself for missing what, in hindsight, I should have twigged straight away.

Can you spot it...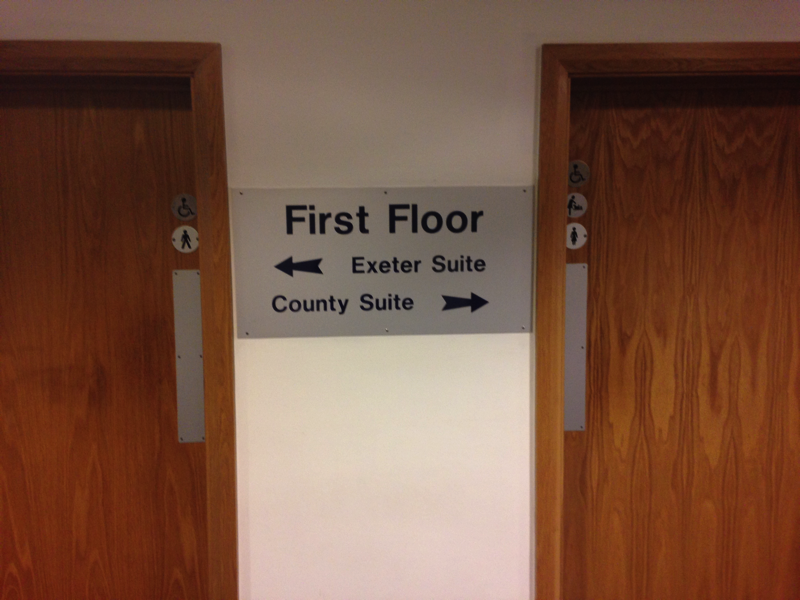 At first view the facilities look fine and I never gave it any thought, as I passed the loos throughout the day many people were coming and going and everyone seemed ok.
After lunch Helen announced that Steve needed the loo, so off they trouped, Helen guiding Steve, out into the hallway only to return immediately with troubled looks on their faces. Now take another look at the picture, which loo was Helen meant to take Steve into... Why had no-one else mentioned this? There were a number of mixed sex couples at the roadshow that day so what did they do when confronted with this choice?
Up to this moment I had only heard Steve's stories regarding toilets like these and, frankly, I was amazed to see them at such a big venue and I wondered how the problem had been missed.
Related article: Birmingham Airport, the first UK mainland airport to roll out RoomMates
Sport England have issued guidelines on the design of Disabled facilities in stadiums: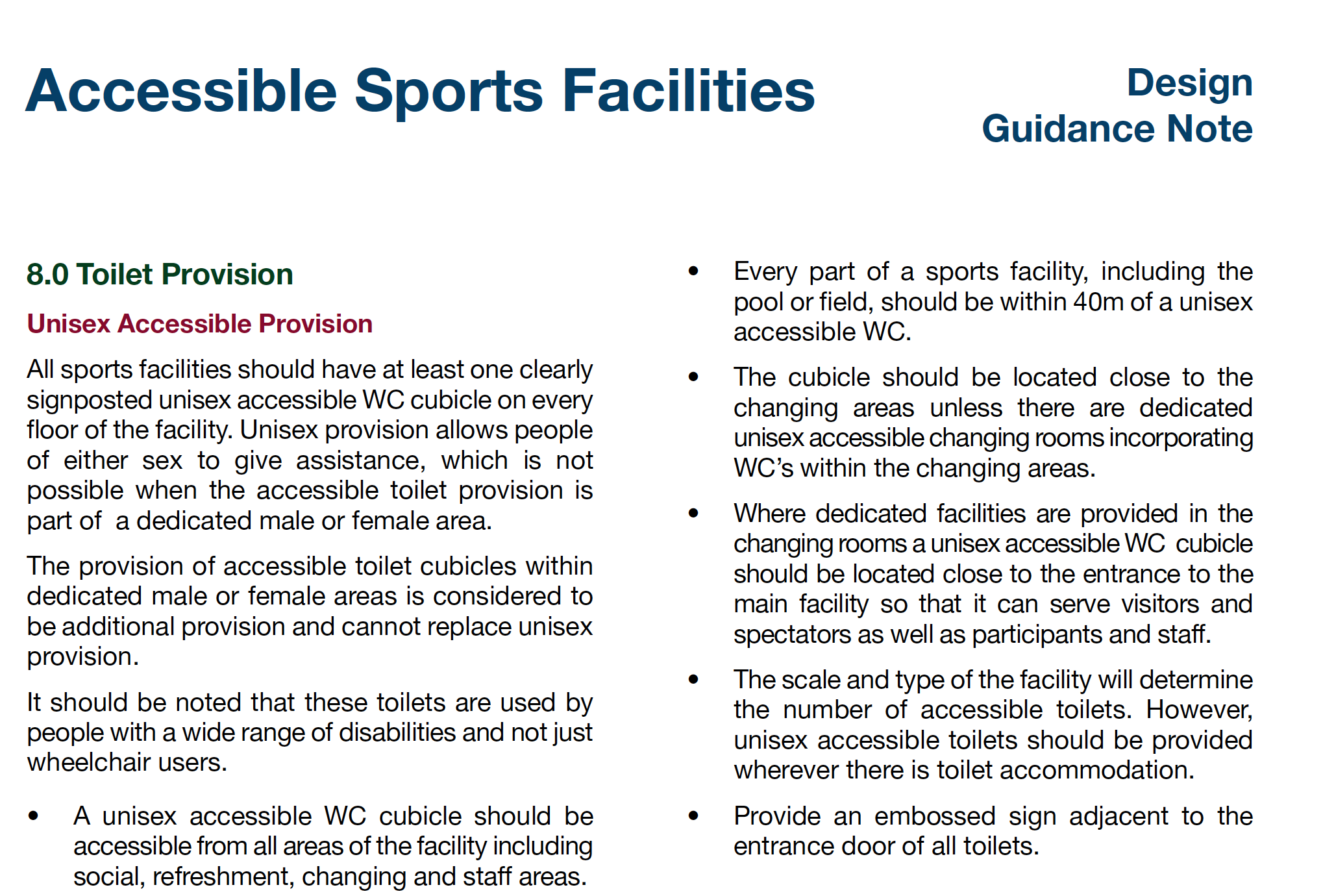 It's not all bad news for the Chiefs though as there are ample unisex toilets dotted around the facility so I'm sure you'll be delighted to hear Steve and Helen had no further problems finding a suitable loo before, well...

We certainly don't mean to single out the Chiefs stadium (they just happened to be the hosts on the day) but after doing a bit of research for this post we found it very interesting, in light of footballs efforts to re-engage with their disabled fans through the CAFE and Level Playing fields initiatives, that the RFU doesn't seem to have cottoned on to the reality of just how many disabled fans there could be out there who consider the lack of thought into their needs as too much of a match day challenge.
This is the RFU's disability inclusion page, right then...
When speaking to blind and visually impaired people the subject of accessible toilets inevitably comes up and everyone has a story, either funny or not so, about a toilet trip, but what links them all is that nobody seems to be complaining to the people who run the facilities. But, and it's a big one, if we don't complain how can we expect the issue be resolved?
Related article: On the hunt for truly accessible toilets
I'm sure the folks at Sandy Park are more than happy to know that having same sex accessible toilets isn't such a great idea and now that we have made them aware, assuming they want to, they can now make positive steps to address the problem, but if we don't tell them in the first place how can they?
And on that theme, if collectively we don't do or say anything to highlight the problems in other facilities as well then, again, how can we possibly expect anything to change?
I wonder how many other visitors to the Sight Village pointed the issue out?